Our Data Center -
Built to Telco Industry Standards
Effective Environmental Controls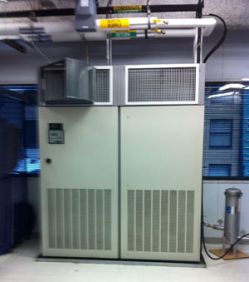 The data center has a glycol HVAC system independent of the facility and is N+1 for all areas of the data center. The data center HVAC system consists of 9 ATS up-flow CRAC units rated at 20 tons (240,000 BTU) each.
Battery room and electric room are also N+1 systems. Dry coolers are N+1 with separate pumps for each dry cooler. HVAC systems are monitored by an Integ system notifying technicians of change in system status. All cooling fluid piping is supported by drip pans with a separate leak detection and alarm system. The entire HVAC system is supported by the generator.
Fire detection is a dual zone ion/photo sensor system with dual cross-zone trigger release mechanism. Fire prevention is a self contained dry-pipe pre-action system (including dry-pipe valve and air compressor) interconnected with the building main fire water riser system designed at 200 sq. ft. per sprinkler head. Water release of the system is a two-stage process that requires both smoke detection via photo/ion and heat of at least 150 degrees Fahrenheit beneath sprinkler head(s) to activate the system.
Conditioned Power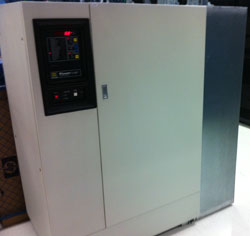 The facility is fed by three 1200 Amp 480 Volt feeders, one active, two spare. Power is fed to an automatic transfer switch and backed up by a 750kWatt generator with a 1000 gallon belly tank. Fuel is on-call 24 x 7 with a 2 hour time-to-delivery.
Both AC and DC UPS power is fed from a separate 2,300 sq. ft battery room onto separate cable trays for DC power and conduit for AC power.
The generator backs up the HVAC system, lighting system, access control system, and fire suppression system. Power is customizable for customers with private cages.
Solid Security
The data center is a secure facility. It is located within the designated SafeZone of downtown Minneapolis. The SafeZone utilizes a proven partnership between joint police departments and private security. Within the SafeZone, private security is directly linked to the Minneapolis Police by means of police radios. The SafeZone also has a strong presence of security cameras monitored 24 hours-a-day, seven days-a-week from the First Precinct of the Minneapolis Police Department.
All entrance/exits, lobbies, man-traps, ancillary rooms and equipment are monitored by 24 x 7 video surveillance. A separate video surveillance system is designated to the data center, once again covering all entrance/exits, lobbies, man-traps and ancillary rooms. Access to the data center is controlled by an additional layer of security and staged systems governed by strict access control procedures. Within the data center physical access to equipment is further restricted to individually locked cabinets and cages.
Flexible Carrier Neutrality
The data center is fed from two separate underground vaults accessing the streets on opposite ends of the facility. The vaults provide communications access for the Carriers, LECs and CLECs housed in the building.
24 x 7 Monitoring
The data center environment is monitored 24 x 7. All environmental systems are under service agreements for both preventive maintenance and repair. Systems are regularly tested and proactively maintained to ensure their reliability.